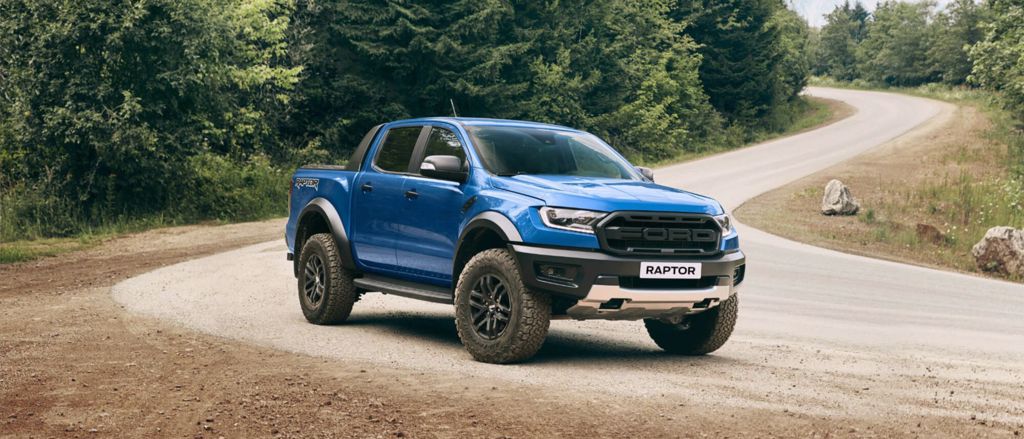 Ford Ranger Raptor
This is no ordinary pick-up. This is a super pick-up.
Ranger Raptor has been bred for off-road performance. This is a vehicle engineered from the ground up to dominate every environment. And it's like no other.
Features
Designed to conquer

The moment you sit in the bespoke seats of the Raptor, it's clear this is no ordinary pick-up. A range of advanced technologies and smart systems deliver a driving experience like no other. And at the press of a button you can engage the powerful new Terrain Management System. There are six different modes, each one optimising the vehicle's fearsome capabilities for a specific terrain: Normal mode, Sport mode, Grass, Gravel and Snow mode, Mud and Sand mode, and Rock mode. For a ferocious off-road experience, select the unique Baja mode.
Take on the world in comfort

Outside, every aspect of the Ford Ranger Raptor is purpose-built to maximise capability, durability and off-road performance. Inside, advanced technologies help ensure that wherever you go, you'll be comfortable and connected. For example, a built-in FordPass Connect modem enables you to lock and unlock the Raptor remotely. When you swap harsh terrain for well-kept tarmac, you can avoid hold-ups with live traffic updates sent straight to your in-car navigation system. And if you've got signal in the wilderness, you can connect up to ten devices to a Wi-Fi hotspot.
Built to perform

The Ford Ranger Raptor fuses off-road capability with the Ford Performance DNA that runs through the GT supercar and Focus RS. A specially designed and precision-engineered, bi-turbo version of the Ford 2.0-litre EcoBlue Diesel engine has been paired with a new 10-speed automatic gearbox and paddle gear shifters. The result: an unparalleled driving experience. And purpose-built off-road tyres help you dominate every terrain, from towering sand dunes and thick mud, to fast-moving river crossings and steep mountain roads.
Advanced safety technology

Whether you're cruising on a motorway or wading through rivers, the Raptor is packed with sophisticated safety systems designed to help keep you and your passengers safe. Advanced Roll Stability Control and Electronic Stability Control help keep you sure-footed in all conditions. Whilst Pre-Collision Assist and Autonomous Emergency Braking actively work to reduce the likelihood of an incident occurring.
Engineered for everywhere

The Ford Ranger Raptor has been precision engineered to take on the world's most challenging terrains with ease. A unique high-strength, low-alloy steel chassis has been forged to meet the demands of the most extreme off-road environments. A ground clearance of 281 mm is combined with the ability to wade through 850 mm of water, too. In fact, every feature is designed to make sure the Raptor delivers an off-road driving experience like no other.
---